Conservation Efforts in Uganda, Africa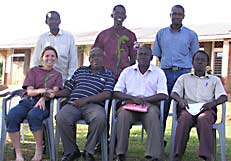 Believing that conservation projects must be led by the people who are most effected by the decline of a habitat or species, Wildlife Experience guides and supports local Ugandan communities in THEIR efforts to start conservation projects in their local areas.
The shrinking patches of forests in the Masindi district of Uganda, which were previously part of one of the largest forested habitats in the country, the Budongo forest, is where Wildlife Experience mostly concentrates.
These small patches of forests house a great amount of biodiversity for their size and in some patches are home to very small communities of chimpanzees. Projects such as Collaborative Forest Management programs, Trail Marking & Census, Reforestation Projects, Boundary Marking, Wildlife Education Outreach Programming, "Chimps in our Forest" education programs, African Grey Parrot Rehabilitation & Release and our very successful Ecological Radio Programs are just some areas of our collaborative efforts.




Outreach Uganda supports forest conservation through education, research and community action plans
Wildlife Experience achieves this in the following ways:
1) Research and Action Plan Development
2) Developing alternative methods of sustainability for local families
3) Education Programs for local schools in the district
4) Regional Radio Programming that spans throughout the local communities adjacent to fragmented forests
Where the passion fruit and the fig tree grow,
where a river hums a quiet low,
where colobus monkey and baboon roam,
and chimpanzees have their home,
a place of riches for all to see,
but only if we . . . let it be.
Please join us in our continuing efforts to save the wild creatures and places of our planet!